Post by ackoli on Sept 7, 2018 5:12:21 GMT -5
This Thread will be Devoted to Posting lore about my creation, The Ackoli. Edits Will be made daily as i have new ideas. If you want to you can suggest things, Make creations so i can upload them, Or just help out. I will try to get this Thread to ten thousand words.
The Ackoli (Scientific Name
Sapiens Rete Ackoli} are native to Kepler 62F, A water world with a Diameter of 16OOO Kilometres, And a gravity of 1.6 G (Which is why they are small and squat}
Pictured: an Ackoli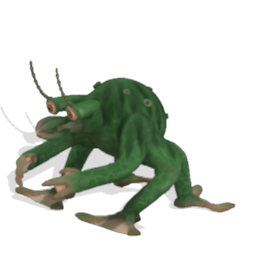 Part 1: Kepler62F
Kepler62F (Keo人eak in their Own Language, With the "人" symbol representing a tongue click} is a superearth in the Kepler62 system (The other planets Being Kepler62B "Ee人ee", Meaning "Fire with Evil connotations", Kepler62C "KilKili人", The name of an ancient god of Stone and Boredom", Kepler62D "Ee人Keo" the Ee at the beginning gives an evil vibe to the word and the Keo at the end means something similar to "Earthlike" and Kepler62E, Which is called "Keo人Ek" Meaning "Similar World" as it is a habitable planet}
Keo人eak has a Diameter of 16,142 Kilometres, Giving it Higher Gravity then earth. Around 85% of the Surface area is cold oceans, 1O% of the area is Polar caps and the remaining 5% is Landmass. Only 35% of this Land is Habitable, The rest being Barren islands inhabited only by Mosses and a few hardy Animals. The largest Land feature of this Planet is Slineax Island, A large blob surrounded by a few islands created by Volcanic Eruptions and a large Meteor impact 15 million years ago.
Slineax Island is around the size of the British isles and is covered by a huge City, where around two hundred Billion Individuals live, Making it by far the biggest city in the known galaxy. This City is self sustaining with many different multi storied and underground farms.
Ecosystem of Kepler62F:
The Ecosystem of Kepler62F is made up of various species, Most of which now live in designated Airtight sanctuaries either deep underground or in huge Airtight bubbles, To allow the Ackoli to expand across their whole planet without causing environmental damage.
The largest Sea Dwelling creature is the Chee人人Okllok. "Chee" Means "Squid" or "Fish", and "Okllok" Ancient and Massive, With Implications of Cosmic horror. This is due to the Sheer size of these creatures. While they start at as small, Squidlike creatures, They Gradually grow over Millennia until they are huge, Solitary Creatures that behave more like Plants then animals, with their huge Tendrils acting like roots stretching out Kilometres and snaring Animals to feed the vast monster. They are Surprisingly common, but very few live to become that large.
Image Will be uploaded for the Chee人人Okllok
Another Creature that lives in the planet of Kepler62F is the Chino, which means nothing, or the root word has been forgotten over time. These creatures are around one centimetre high, And live in small, Surprisingly complex groups for creatures of there size. They possess Limited emotions, and maybe even basic sentience. They are the closest living relatives of the Ackoli, and are treated with sympathy by the Ackoli. The Chino have two heads on each side of their body, Which have a single brain, Allowing them to see behind and ahead of them at once.
Pictured: Chino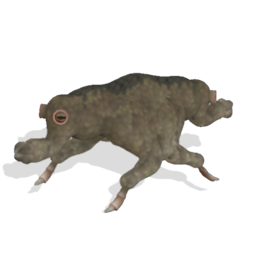 Various other Creatures live on the planet of Kepler62F, With some of the most Prominent being as follows:
. The Irilok. The largest Land animal on kepler62F, Iriloks are huge monstrosities with Four legs and extremely dense bone structure and muscle to allow them to live in the High gravity of Kepler62F.
Picture will be made soon
. The Tirilok. a small creature with large wings to allow them to glide for a short while, Tiriloks have bat like feutures but also have feathers, Similar to a bird. They are somewhat intelligent, and can be tamed, Making them a common pet on Kepler62F.
Picture will be made soon
. The Brapirak. Squat and close to the ground creatures, Brapirak have a coating of hard tissue and a tail with a spike on the end, which they use to attack their enemies. They mostly feed on Ali人iko and they sometimes attack Chino nests to eat the small creatures. However, they are not intelligent and cannot be domesticated, with less intelligence than the average Chino.
Picture will be made soon
. The Ali人iko. Tiny creatures that scurry around the undergrowth, Eating plants and roots. They have a single eye mounted on a long stalk that they can retract at will, Allowing them to see far distances and still be safe. They are some of the lowest creatures on the food chain, and are eaten by most Omnivores. Ackoli keep them as livestock for their high quality meat.
Picture will be made soon
. The Lesser Chee人. A tiny creature with three tentacles, With it uses to swim in the ocean. It is a distant cousin of the Chee人人Okllok, But it is tiny, being around five centimetres long. It is extremely common in the Oceans of Kepler62F, and Feeds off of plankton and algae Floating around.
Picture will be made soon
. The Ana人kwapuluk. A massive slug that feeds off algae and is covered with an Extremely hard shell, Which they retreat into if attacked. They Breed by splitting into different individuals, Which are effectively clones of eachother. they can block up rivers by Sitting in them and spawning rapidly, Which can cause environmental damage in the area.
Picture will be made soon
Flora of Kepler62F:
Due to the fact that Kepler62F is a red dwarf, Plants that use photosynthesis are reddish brown rather then green. However, Seed or flower bearing plants are extremely rare, With most plants being Similar to ferns, Producing spores instead of seeds. Most of the flora however is fungi, With some species growing up to five metres tall.
Demographics of Kepler62F:
Kepler62F has a very large population, a total of two hundred and fifty billion individuals. Most of this population is centred in a single, Huge city on slineax island. This city contains nearly the entire population of Kepler62F, with a population of two hundred billion people.
Most of the residents of Slineax Island live in huge, one kilometre high city blocks with Lattices of underground networks beneath them. These city blocks are connected by skybridges containing Railcars and Public walkways (No cars, Individual transports are made Illegal by the PSWR unless in specific circumstances}, and have Small buildings around them which contain schools, Hospitals and various public services. Residential buildings are surrounded by multi storied farms, and have Underground agricultural facilities in order to provide enough food for everyone in the city.
Pictured below is examples of Ackoli architecture:
(Tell me if these creations are downloadable}
Ackoli are somewhat culturally and ethnically homogeneous, Due to the fact that Ackoli cultures merge rather than collide when they meet, and also because Ackoli originated on a small, Isolated landmass rather than a large one like Humans did, Making it so that they did not diverge much over their history.
However, Kepler62F is an Extremely diverse planet, With Many different species making their home there. Approximately 53 sentient species live on Kepler62F, and at least one thousand distinct cultural groups are present there. The Ackoli make up 75% of the Population of Kepler62F, and are the dominant cultural group in the Area.
The culture of Kepler62F is not realy definable, as it is effectively a melting pot of most cultures in the galaxy. Ackoli culture, The most Prominent, Values Cooperation, Utilitarianism and Empathy over spiritualism, And despises metaphors.
The Cuisine of Kepler62F is a mixture of Traditional Ackoli fried Mushrooms and fish (often with thick And rich sauce} and Various other foods from different cultural groups.
Kepler62F Geography:
Kepler62F's Most notable Feature is the Slineax Archipelago, Made up of seven Distinct Islands (Referred to Collectively as "Slineax Island"}. The largest island is Slineax Capital, Which is covered with a huge city, Where most of the inhabitants of Kepler62F live. To the East of Slineax Capital is The second Island: Slineax Beta, Which is mostly wilderness, Save for a few research stations to research the unsettled island. To the southeast of Slineax Island is the Preakin Crater, The remnants of a billion year old meteorite that caused a global extinction, Killing all life on the planet save for a few Bacteria in an underground cavern. The central Island of the Preakin Crater has a city on it, Where five billion individuals live, and the outer four rings contain various Arcologies and Towns, With a total of two billion people living in the outer Preakin rings.
The Poles of Kepler62F cover 25% of the planet, and are uninhabited save for a few Research towns with less than a million Residents in total, Due to their extremely low temperatures.
A series of Small island chains dot the Oceans, Most of them barren tundra, and a few large Artificial cities are positioned near the coast of Slineax Island, Appearing as giant oil rigs. for the most part, The planet is just open and frigid oceans, With no land for thousands of Kilometres.
PART 2: ACKOLI SOCIETY
ACKOLI SOCIETY WILL BE COMING SOON. TO BE CONTINUED...